"I don't know where I would be without Clare's Place." Vern V., a life-long Everett resident, is a man of few words, but they are heartfelt.
At Catholic Housing Services (CHS), we firmly believe that homes are the starting point of hope for thousands of vulnerable neighbors like Vern, marginalized by age, illness, and the tragic loss of a warm and safe place to call home.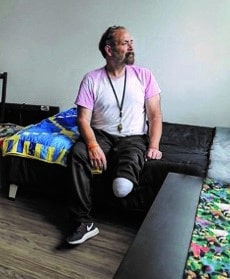 Hope lies at the heart of our mission at CHS. Every story of homelessness is unique and, more often than not, entwined with poverty and loss. For Vern, the downward spiral of despair began six years ago following the death of his mother and the loss of his home. Neglected healthcare related to Vern's diabetes resulted in the amputation of his left leg below the knee.
For Vern, it was no small miracle when his life took a dramatic turn for the better following a subsequent hospitalization. One month earlier, CHS had just opened Clare's Place, 65 new units of Permanent Supportive Housing for adults experiencing chronic homelessness–the first such housing in Snohomish County. Vern was one of the first residents we "welcomed home" to Clare's Place.
Every day, CHS creates safe and stable communities for neighbors like Vern, who are at risk of or have fallen into homelessness. This last year alone, we were able to provide 4,788 individuals with permanent, affordable housing in one of our 2,633 units for low-income single adults, veterans, families, farmworkers, seniors, students, and people with special needs.
My personal gratitude for your support of our mission comes with gratitude from our residents as well. Vern has become a valued community member, finding ways to give back by helping to maintain the grounds at Clare's Place. In a recent interview with the Everett Herald, Vern reflected on his experience in supportive housing:
"Clare's Place does a lot of good things for a lot of people. My life has improved from living here. I am closer to family, I have health care on-site, and I have a caregiver to help me. Things are easier for me here than they have been in a long time."
With this request for your support of CHS, my promise to you is that every dollar you share will have real impact in helping provide safety, security, and supportive connections for those in our care. In the words of Clare's Place Program Manager, Alison Ahlgrim, "Housing is essential! It's crucial to functioning as a human with dignity and the ability to live with some quality of life."
With heartfelt gratitude for your support, both from CHS and from all the "Verns" we are privileged to "welcome home," thank you!
Very sincerely,
Flo Beaumon, Agency Director
Catholic Housing Services
---
---
 "I'm writing to you today from my laptop in my apartment for college student housing. Let me tell you that never in a thousand years did I ever think that I would be here today, and if you had seen me five years ago you may have thought the same thing. I was an active meth addict, living in my truck, wishing that the pain would just go away. Once CCS got me into housing, I was able to finally start feeling safe from the world for the first time in a long while. I had been sleeping in my truck in Walmart parking lots, underneath light poles, and anywhere else that I felt a little safe from people. So, it is a blessing to be in a house, with a bed and a door and proper food to eat. You all saved my life, and I am forever grateful. The most important thing was getting into housing. I wouldn't be here today if I had not gotten it." – Michael B.