"I truly believe that the most valuable part of in-home care is helping vulnerable clients remain in the homes they love, surrounded by their pets and life-long cherished belongings. The work is challenging and rewarding – especially when I see smiles on their faces!"
These sentiments from our Long Term Care (LTC) caregiver, Jennifer, are the same for hundreds of full and part-time in-home caregivers who annually provide over two million hours of personal care to thousands of homebound seniors and people with disabilities. Vital in-home services include assistance with the following: Ambulation, Transferring, Bathing/toileting, Foot care, Nurse-delegated tasks, Meal preparation, Transportation, Shopping, Light housekeeping.
Beyond home-based services, LTC offers Meals-on-Wheels and senior transportation programs as well as elder outreach partnerships with Senior Centers and meal sites throughout western Washington.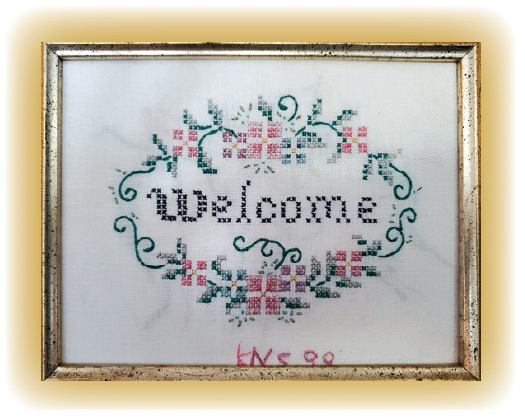 When Jennifer first arrived at the modest home of Kim and husband, Vince, her initial priority focused on serious safety issues that had worsened in recent years. According to Kim, who uses a walker, "Our place looked like a tornado hit!" Jennifer quickly put a plan in place to repair windows and appliances, provide better lighting, and remove obstacles to ambulation. Other Homey touches followed that included framing Kim's signed cross-stitch art with its warm messages of "Welcome."
At the same time, Jennifer and Kim confronted some neglected health issues. "She's a trouper," Jennifer says, reflecting on the many procedures Kim has recently undergone to improve her sight and dentition. Best of all, Kim's mobility progresses daily due to better nutrition, weight loss, exercise, and a large measure of caregiver encouragement!
Your financial support allows LTC to find and train the best possible caregivers, like Jennifer, who love what they do for low-income folks disabled by age or infirmity. With your help, we can continue to bring vital personal care, safety, and warm smiles to elders eager and thankful to "Welcome" our caregivers into their cherished homes.
With gratitude for your care and support, I remain,
Sincerely,
Peter Nazzal, Director
Long Term Care
P.S. Every day, I see firsthand how our home-care services are providing serious lifelines for the rising number of low-income elders and people with disabilities. In Jennifer's words, "the most important joys we as human have… are to care for others."
---

---