​"Our parents are so eager to do the best for their kids!" Program Manager Rubit Chavez
Nido Familiar/Family Nest Pregnancy and Parenting Support (PrePS), a CCS program in South Seattle, serves diverse families in King County by promoting the health and well-being of women, children, and families through case management, parenting classes, and supportive services.
While Nido Familiar/PrePS clients reside across King County, a dedicated bilingual staff runs the agency from a former convent in South Seattle. The language skills of Program Manager Rubit Chavez and Case Manager Alejandra Torres are in great demand because most of their clients are native Spanish speakers from Mexico and Central America. "One of the ways we help our families is by translating communications and preparing documents for school purposes."
Rubit and Alejandra also organize field trips for their families, like last summer's visit to the Seattle Aquarium. "Our parents are so eager to do the best for their kids. A lot of our classes and case management involve reinforcing their active involvement with their young children, assuring parents that they are doing the right thing, working on motor skills and brain development in the course of their daily interactions."
Clients and staff work together to maintain a vegetable garden that provides foods throughout the summer. Gardening is a great family activity and helps stretch food dollars too!
"Last year, we had specialty zucchini, green beans, mint, peppers, tomatillos, tomatoes, and a small strawberry patch. We have some great soil here, and everything grows beautifully!" according to Rubit.
Thanks to volunteers from Advocacy and Caring for Children (ACC) and St. Edward, St. Joseph, St. Jude, and St. Matthew Parishes, the center maintains a well-stocked inventory of diapers, shoes, socks and gently used clothing to relieve the financial burden on young families. Volunteers stock the shelves and help with special events, like the Annual Holiday Gift-Giving Event in 2022, when nearly 200 families received gifts from generous parishioners and local businesses. "Last year, we served 109 families," Rubit reports. Despite nearly doubling in size, this year the program was able to meet the needs of the community.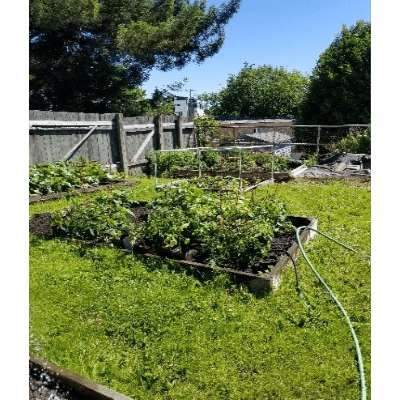 Last Christmas, the entire Nido center was overflowing with holiday gifts, thanks to the generous participation of local parishes and businesses.
Nido Familiar is especially helpful to immigrant families and others who lack local social support. "The
weekly visits have been a blessing for my family," says Maria S., who has been attending for three years. She started as a new mom after arriving in a new neighborhood with no family or friends to support her. "Just me and myself!" She continued to meet with her case manager through the pandemic via Zoom, thanks to tablets distributed by the program.
Alejandra translates for another mom, who asked not to be identified publicly. She is profoundly grateful for the help she has received for her three children, aged 3, 9, and 11, over the last six years. Her husband works hard, but the budget is tight. She knows she can turn to the center for access to food, clothing, and toys and, during times of financial crisis, funds to keep her household from falling behind on rent and utility bills.
Asked about her wish list for Nido/PrePS, Rubit says, "I am grateful for funding from CCS and ACC and the generosity of our parish donors. We are constantly looking for volunteers and funding sources. I wish we could serve more families on our waiting list — these early years are so important for developing children's confidence and resilience."
VOLUNTEERS are always welcome! Call 206-584-1270 or visit the CCS Nido Familiar/PREPS website to volunteer or view their supplies wish list.